Bret Hayworth March 2, 2019h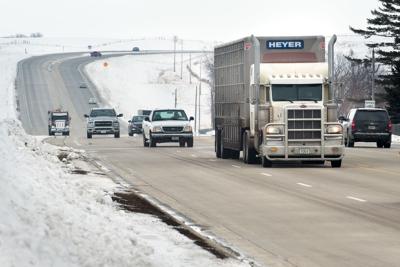 SIOUX CITY — The numbers are indeed on the rise.
For years, when people pushed to get U.S. Highway 20 moved from two to four lanes in Northwest Iowa, supporters said it would make for a more safe thoroughfare and bring increased traffic, which could boost economic development.
In the few months since the Highway 20 modernization was finished with a final project covering 40 miles from Woodbury to Sac counties, that prediction has panned out, as Iowa Department of Transportation statistics show a spike in traffic.
IDOT official Dakin Schultz said the average daily traffic count at the west edge of Ida County from late 2018 into January has been in the range from 3,826 to 4,621.
The counts went from 4,495 in October to 4,621 in November, then fell lower in winter months, as is often the case in other counts done by IDOT on other highways.
Those counts were at a spot between the towns of Holstein and Cushing. That top count 4,621 total makes for a more than 20 percent uptick from before the project was completed, when daily traffic totals were 3,609 for the entire year of 2015.
"We have not had a chance to obtain a year's worth of counts or complete counts as part of our annual count program, but we have seen an increase in traffic at the automatic traffic recorder location near Cushing," Schultz said.
The completed highway opened in October, and a host of state department officials and others buoyantly commemorated the advancement with a ribbon cutting at Holstein.
They celebrated that Highway 20 had been modernized to four lanes wide all the way across Iowa. Previously into the 1980s, with the exception of 15 miles from Sioux City to Moville, only the eastern two-thirds of Iowa had four lanes.
In the last dozen years, 20-to-25-mile sections with four lanes were opened. First was a segment from Moorland to Rockwell City. Then came Rockwell City to Early, in a layout more to the north and bypassing most towns. That left a 40-mile section with two lanes back to Moville.
The Iowa Legislature approved a 10-cent increase in the state gasoline tax in 2015, and within months the Iowa Transportation Commission used that extra revenue to slate the completion of Highway 20 in Woodbury, Ida and Sac counties. That resulted in a three-year flurry of work, in a $215 million endeavor that finally moved all 300 miles across Iowa to four lanes, 60 years after the Sioux City to Moville section had been broadened.
Moville Mayor Jim Fisher said he has literally seen the bump in traffic.
"I know it has increased. I can see that very strongly," he said.
Fisher said he had been in meetings in which Hy-Vee grocery chain officials said they wouldn't use Highway 20 from a warehouse facility in Cherokee. But instead of using U.S. Highway 3 to head to some destinations, the Hy-Vee trucks are now using Highway 20, he said.
Fisher said Moville businesses have located on the town's frontage road, which is within eyeshot of Highway 20, since 2016. A Lewis Drug pharmacy, Dollar General store, Movillatte coffee shop and Nicklas D. Jensen Funeral Home and Monument Company have opened on the frontage road.
Fisher said Jensen officials also opened a facility in Correctionville, 15 miles to the east, for the "exposure" of being on Highway 20.
Fisher said Moville officials will continue moves to modernize frontage road infrastructure, to keep the growth going.
"We want to take advantage of that traffic. That's why stores are being improved down there," he said.
Warning
: Cannot assign an empty string to a string offset in
/home/customer/www/4lanes4nebraska.com/public_html/wp-content/themes/flashlight/includes/helper-slideshow.php
on line
290